DIE CUT PARTS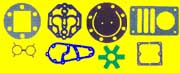 Any of our rubber sheet or sponge products can be die cut by a variety of methods to obtain your desired combination of quantity, tolerances, and price. We will choose the method that best meets your needs.
We die cut rubber by the following methods:
HAND CUT (For large sizes and small quantities)
STEEL RULE DIE (for mid-range quantities with commercial tolerances)
MALE-FEMALE FORGED DIE(For larger quantities, tight tolerances, and lower price)
WATER-JET (For difficult shapes, thick parts)
.
---